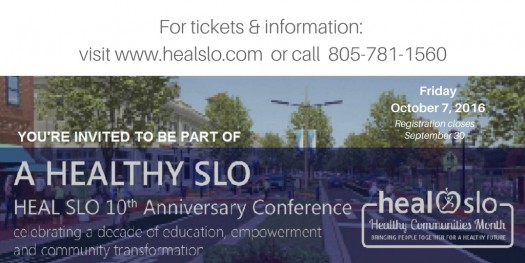 HEAL SLO is celebrating its 10 year anniversary on October 7th at Mountainbrook Church. We have a great day full of nationally recognized speakers who will be presenting on health issues that are important to our community. Please click here for the
conference agenda
and here
to register
. Registration also includes a light breakfast and lunch catered by local farm-to-table chef's at Two Cooks Catering. Here's a snapshot of the keynote speakers:
Dr. Anthony Iton will be discussing social determinants of health – how a child's zip code has a huge influence on health indicators as well as length of life. Dr. Iton also leads the place-based aspects of Building Healthy Communities, a billion dollar, 14-site, place-based health improvement effort targeting comprehensive local and statewide policy and systems change.
Chris Massa, from Ventura USD, will be speaking about his nationally recognized work with school gardens.  His goal is to connect kids to real food by creating school gardens and teaching students about the important connections between our food, our health and our environment. The student farm program that he developed grew more than 2,000 pounds of produce, feeding students and their families, as well as contributing to school cafeterias and local food banks. He's also a recent University of California 30 Under 30 Award winner.
We also will have a competition called Veggie Boxes, where local groups can discuss their work on healthy eating and active living and they can
win $1000
! This would be a great opportunity for organizations to win some cash. The odds of winning will be good – about 8 to 1 – so please participate and spread the word.  
Sign up here
!
Flyers for registration and the Veggie Boxes are below. Please feel free to share these on your social media pages! Sign up soon – registration closes on September 30th! Please contact Morgan at 805-781-1560 if you have any questions or need a scholarship.
HEAL SLO Conference Information